New Mexico is facing an oral health crisis. More than half of our state's residents have advanced gum disease -- the highest percentage of any state in the country. One out of three of our state's third graders have untreated dental disease which can cause unnecessary suffering and pain for these kids.
Oral disease can lead to serious, expensive health conditions if it is left untreated, including heart disease, blood clots, brain infections and diabetes. Many times, people struggling with dental problems end up in the emergency room, costing the state money. These problems can be prevented if people have regular access to routine and preventative dental care.
Unfortunately, access to quality dental care is a major problem in New Mexico.  There are dentist shortages in almost every county in our state.
The good news is that there is a cost-effective, scalable solution to our state's oral health crisis: DENTAL THERAPISTS.
Dental therapists are highly trained mid-level professionals on the dentist-led team who can perform routine and preventative services in a role similar to that of physician assistants in medicine. Dental therapists are increasing access to preventative dental care in other states, including Alaska and Minnesota.
Our state legislature came very close to passing a dental therapy bill in the 2017 session. The bill was developed through a first-of-its-kind collaboration between public health advocates, dental hygienists, and dentists.  It had bipartisan support from policymakers and widespread support across the state.
The momentum and support behind dental therapy has continued to grow in New Mexico. We encourage the State Legislature to take action in the next session to end New Mexico's oral health care crisis now.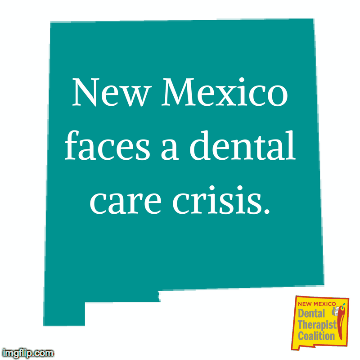 About the New Mexico Dental Therapist Coalition
Our coalition is working to end the oral health care crisis in New Mexico by supporting the addition of dental therapists to the dental team.  Our members include:
NM State Legislative Health & Human Services Committee – Endorsed dental therapist legislation (Nov '12, Dec'13, July'14). and Indian Affairs Cmte. (Sept'14)
AARP New Mexico
Albuquerque Area Indian Health Board (AAIHB)
Alta Mira Family Services, Inc.
Americans for Indian Opportunity
Center for Civic Policy
Center for Native American Youth
Centro Sávila
Community Dental Services, Inc. - ABQ
Concilio CDS, Inc. – Las Cruces
Dental Care in Your Home, Inc.
Des Moines School Health Advisory Council
Eight Northern Indian Pueblos Council
Elev8 NM
El Pueblo Health Services - Bernalillo
Family Promise of ABQ Interfaith Worker Justice
Lutheran Advocacy Ministry of New Mexico
Native American Professional Parent Resources, Inc. (NAPPR)
Native Health Initiative
Navajo Nation – wants dental therapists in their community
Nizhoni Smiles Dental Clinic – Shiprock
Northern New Mexico College – Española
NM Alliance for Retired Americans
NM Alliance for School- Based Health Care
NM American Federation of Teachers Retirees
NM Center on Law & Poverty
NM Conference of Churches
NM Dental Hygienists' Association
NM Health Resources
NM Intertribal Community Services Council (NMITCC)
NM League of United Latin American Citizens (LULAC)
NM Public Health Association (NMPHA) (2011,'13,'14,'15)
NM Religious Coalition for Reproductive Choice
NM Telehealth Alliance NM Voices for Children OLE NM
Pew Foundation
Place Matters
Pueblo of Kewa/Santo Domingo Health Board -
wants dental therapists in their community.
Pueblo of Tesuque RESULTS - Santa Fe
Rio Arriba Community Health Council
Rio Arriba County Health & Human Services
Santa Fe Community College
Southwest Women's Law Center
Southwestern Indian Polytechnic Institute (SIPI)
Ten Southern Pueblo Governors Association
Tierra del Sol – Las Cruces
Union County Network wants dental therapists in their community – Clayton
Union County General Hospital
Union County Health Alliance
Women's Intercultural Center – Anthony
YDI-Elev8 (Youth Devlp. Inc.)
William H. Johnson, Jr., Fmr. NM Cabinet Secretary for Human Services Dept.
Alfredo Vigil, MD FAAP, Fmr. NM Cabinet Secretary for Health & Human Services – Taos
Ronald J. Romero, DDS, Fmr. NM Dept. of Health Dental Director, Private practice dentist – Santa Fe DezBaa Damon-Mallette DMD – Aztec, ABQ
Davis Gauntt, DDS –NM Smiles mobile dental clinic
Bob Giannini, DDS – Fmr. NM Dental Board Chair, ABQ
Howard Rhoads, DDS – Artesia
Roger Ames, DDS – Mora
Bill Niendorff, DDS - ABQ
Patricio Larragoite, DDS – Cochiti, Santa Fe
Harris Silver, MD
William H. Wiese, MD, MPH, Ret. UNM faculty; Fmr. NM DOH Public Health Division Director